Industry experts are in accord that the emergence of the Covid-19 pandemic has delivered many sharp lessons including the urgent need to fast track smart city initiatives.
Indeed, this Outlook 2021 special edition presents a mountain of insights that push the smart city concept firmly from the 'nice to have' to the 'must implement today' for Malaysia.
As the beating heart of a smart city is smart data, we will focus on some essential perspectives to accelerate smart city developments. The current crisis highlight, among others:
Two challenges that must be transformed immediately into opportunities – and centre on the flow and handling of data; and
The vital need to build cohesive connections between advanced technologies, relevant culture change, and administration processes in order to heighten Malaysia's economic empowerment, environmental sustainability, and social re-engineering to meet the demands of the 4th Industrial Revolution era.
As envisaged by Malaysia's Smart City Framework under the 12th Malaysia Plan 2021-2025, digital transformation is a vital catalyst to drive Malaysia's recovery efforts and enhance the quality and safety of life in a rapidly shifting world.
Immediate Steps
Today, governments around the world are playing catch up because most citizens are ahead of the digital curve. Malaysians are pioneer internet users as borne out by many regional and global studies.
Carried during the pandemic, MCMC's Internet User Survey 2020 recently reconfirmed the uptick in Malaysia's use of the internet, which is driven significantly by daily usage of mobile apps to carry out life tasks – such as parking (multiple parking apps including KL's JomParking, E Smart Park, Flexi Park, etc), checking in for errands during the pandemic (MySejahtera), banking & digital payments (e.g.TouchnGo), work, social interaction, and eCommerce in all its forms. Currently, 88.7% of the population are internet users with smartphones reaching near-saturation usage level at 98.7% in 2020.
Currently, many apps overlap to carry out common tasks. Which is reflected in another major challenge – a stumbling block facing both public and private sectors globally.
Data silos are collections of information often accessible by only one group, which grossly hampers sharing and decision-making. Though centralisation is difficult due to concerns such as privacy, data sovereignty, and data existing in varying states of quality, a move to data lakes would help to start addressing this block – providing informed data and insights for better decision making.
The pandemic has prioritised unlocking digital potential especially arising from the phenomenal growth of devices (the Internet of Things, IoT) in our personal and business lives that are online, connected, and capable of collecting and sharing data, which is ubiquitously called the new oil – and regarded as a key asset in today's world.
Technology Imperatives
Smart cities – also known as SCC or Smart and Connected Communities – can provide essential infrastructural support for the deployment of advanced analytics and connected solutions.
Digital technologies that help to collect, process and act on real time data include essential jigsaw pieces such as IoT and Artificial Intelligence (AI), all of which ride on cloud computing – a platform that has proved to be a lifeline during the current crisis, enabling us to connect through videoconferencing apps and remote access systems.
5G technology presents another avenue of hyper connectivity especially in areas previously difficult to serve. And the future holds capacity building for autonomous vehicles and the 'next normal'.
At the beginning of 2020, the world saw a series of public-private collaborations in Malaysia with the sanction of the government included demonstrations of large-scale use cases.
A confluence of technologies demonstrated by real-time projects placed in parts of the island archipelago of Langkawi could easily be viewed from the TM ONE 5G Command Centre (5GCC) built on an open, sharing model to enable full collaboration into the future.
The use of AI smart cameras, community alert buttons, geolocation apps, My Smart City mobile app, smart helmets and other solutions – powered by real-time data analytics – demonstrated multiple use cases spanning smart city, smart tourism, smart traffic smart agriculture, as well as crime prevention and citizen safety.
Build a Seamless Future
Smart city technology is enhancing safety, reducing costs, building resiliency, providing innovative new services, and generally improving living conditions, as evidence by analysts such as McKinsey Global Institute projects which shows that moving to the smart city concept is reducing fatalities by 8–10 percent, accelerating emergency response times by 20–35 percent, shaving average commutes by 15–20 percent, lowering disease burden by 8–15 percent, and cutting greenhouse gas emissions by 10–15 percent, among other positive outcomes.
With the aim of becoming a Vibrant City by 2030, Majlis Perbandaran Subang Jaya (MPSJ) is another Malaysian example of smart city initiative to enrich community life by utilising advanced technologies to deliver smart services to people in SS15 Subang Jaya.
Some would say that investment needed to develop a smart city would be hefty. On the contrary, a smart city is a city that intuitively adapts and responds to the needs of its Rakyat. The need of the Rakyat comes first as technology is merely the enabler to address that need.Its is not paramount that everything within the city be made smart, for the smart city technology to be sustainable,emphasis should be made on strategic touchpoints of everyday life.Sustainability of a smart city anchors on needs and inclusion of surrounding stakeholders.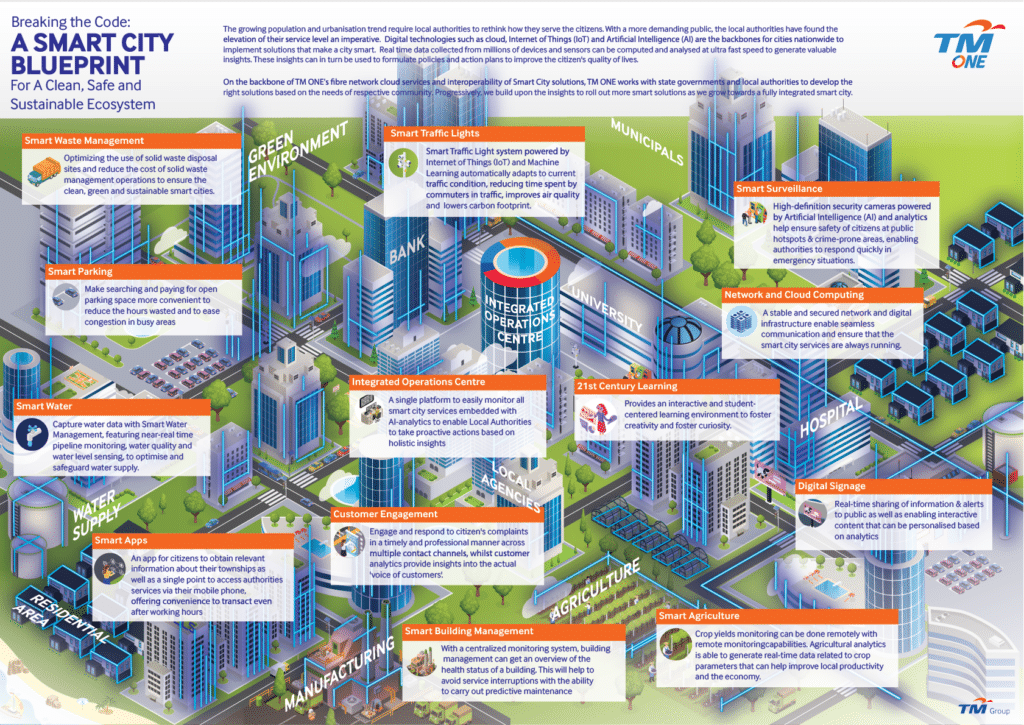 Power of Partnerships
Given the prevailing high failure rate of projects – a PwC/Gallup study of more 10,640 projects found only 2.5% of companies met their original goals while failed IT projects cost the US$150 to 150B in lost revenue and productivity in the US – we must not forget that for every step of a project demands an integrated holistic approach.
The glue that connects and holds together transformational drivers – such as strategic vision, planning, communication, culture change, digital technologies – is the right array of talent and expertise in a highly collaborative partnership – often referred to as professional services.
In 2021, Malaysia's public authorities are now ideally placed to refresh and fast track smart city initiatives with digital technologies to upscale service levels, citizen well-being, and especially important at this time – to forge the space for sustainable growth and development.
The growing population and urbanisation trend require local authorities to rethink how they serve the citizens. Everyone – private, public and the people, has a role to play. Digital technologies such as cloud, Internet of Things (IoT) and Artificial Intelligence (AI) are the backbones for cities nationwide to implement solutions that make a city smart. Real time data collected from millions of devices and sensors can be computed and analysed at ultra fast speed to generate valuable insights. These insights can in turn be used to formulate policies and action plans to improve the citizen's quality of lives.
Read Now