Prominent oil and gas industry player PETRONAS is orchestrating a company-wide digital transformation with a systemic approach. The group intends to achieve its vision of a data-driven organisation as well as its desired business outcomes and value by leveraging disrupting technologies.
Recently, the drive for digitalisation is on the fast track due to the dual impact of the low oil price environment and the pandemic. Digitalisation initiatives are now also part of an industry-wide response towards the growing pressure for cleaner energy. As such, these measures target to achieve two (2) main objectives:
Improving operational efficiency to minimise the downsides of market challenges by protecting liquidity
Achieve business sustainability through new ventures such as new energy and the cleaner production of upstream and downstream operations
This article provides an overview of the digitalisation efforts that PETRONAS has made. The plans executed give insights as to how a large business like PETRONAS manages to introduce digitalisation to navigate the volatile business climate of its industry.
Improving decision-making with cloud-based applications
Partnering with Industrial Software Solution Provider AVEVA Unified Cloud Solution
In order to streamline and simplify business processes, PETRONAS recently partnered with AVEVA to improve the integration across its whole supply chain. Powered by high-performance cloud computing, PETRONAS adopted AVEVA's Enterprise Crude Knowledge Management solution
A common problem faced by oil and gas operators and industry is that decisions made by the management are often a product of several departments. If the company does not manage these decisions well, it would result in costly workflow disruptions and value leaks.
With the solution adopted from AVEVA, PETRONAS has consolidated crucial information to optimise productivity and streamline business decisions. Using this additional knowledge management platform, teams from different departments can have a unified view, promoting collaboration and understanding. Moreover, this provides a single source of crude oil information across the whole supply chain, ensuring consistent data management across teams.
Cloud computing plays a critical role in enabling the easy management and scale of providing these solutions. Teams can benefit from the performance and stability that cloud computing can provide. Moreover, cloud providers often offer complementary data analytics services, allowing users to utilise the data collected from their applications fully. More importantly, the adoption of cloud-based applications gives higher flexibility to control costs, which is crucial for navigating difficult business periods.
Introducing Digital Procurement Platform Smart by GEP in 2019
PETRONAS operates in an industry where contracting and procurement plays a pivotal role in ensuring services and materials are up to standards. With large projects, traditional procurement systems often limit the ability for PETRONAS to cater through the proposals. This hampers the ability to make timely decisions. The downsides of these limitations may result in inefficiencies and unrecognised risks from the players involved in delivering the projects.
Recognising this issue, PETRONAS has introduced its very own digital procurement platform for sourcing activities called Smart by GEP in 2019. The product was rolled out in phases and has since been the primary platform for sourcing activities from 2020. The features of the platform allow solution providers to have:
A centralised bid submission platform
Tender clarification services
A singular platform for contractual documents
Streamlined invoice submission
Transparent performance rating
Powered by cloud technology, this unified platform helps PETRONAS by leveraging historical data and external market data to assist in decision making. More importantly, the introduction of Smart by GEP improves the supplier experience to PETRONAS partners.
This paperless system benefits vendors and PETRONAS staff as the procurement process is now more efficient. Furthermore, this system enables the consistent continuation of business proceedings during the pandemic by facilitating work-from-home initiatives.
Deploying Artificial Intelligence (AI) with Cloud
PETRONAS has recently partnered with a fellow oil and gas player Baker Hughes and AI enterprise expert C3.ai to deploy proprietary BHC3 technology across the group's digitalisation programmes. Deployed using Microsoft Azure, the BHC3 application improves the maintenance of assets such as gas turbines and control valves via predictive analytics to prevent downtime.
This technology brings value as it has predictive models that detect and alarm operators ahead of time. As a result, PETRONAS now has higher utilisation of resources, a longer equipment life span, and improved operational safety.
Empowering change from the ground-up
Renewing facilities with the Facilities of the Future (FOF) programme
Other areas in which legacy systems might limit the ability for PETRONAS to achieve its goal of sustainable production is the group's current facility structures. To tackle this issue, PETRONAS initiated the Facilities of the Future programme in 2017.
The goal of this initiative is to de-risk the introduction of new technologies onto the plants and platforms. With a pilot and scale approach, PETRONAS seeks to work with several technology partners such as TM ONE to experiment with the value of new technologies. Currently, for offshore facility upgrades, PETRONAS is running pilots on its RESAK platform, located in Kerteh, Terengganu. Through controlled pilot projects, successes there are then replicated onto other platforms.
The implementation of these technologies comes with the intention to develop Malaysia's first remotely operated facility. It covers three (3) main pillars – manpower, control, and automation. By 2023, PETRONAS hopes to achieve the ability to run with unmanned operations, complete remote control, and full automation.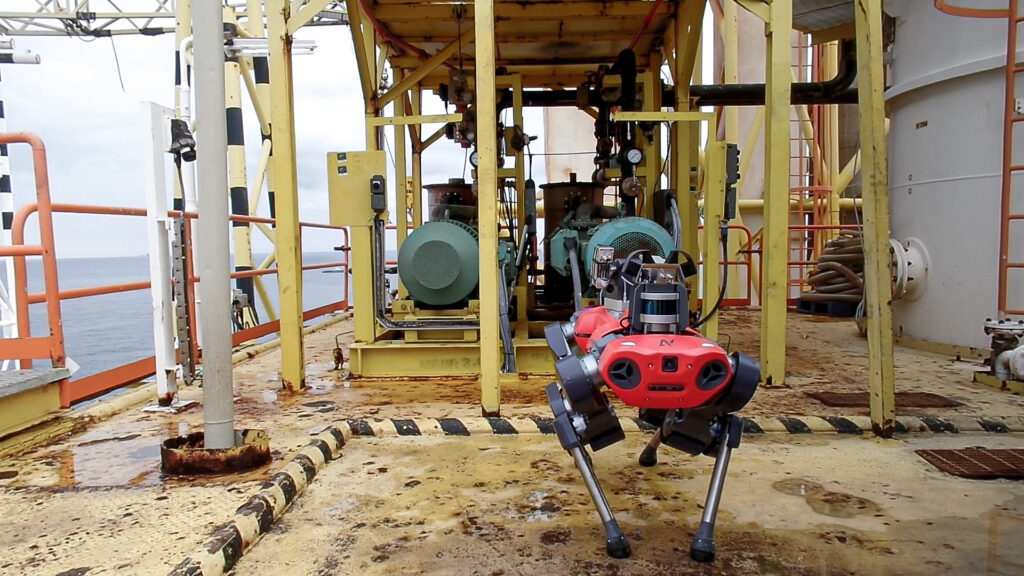 Some technologies implemented under this programme are:
1. Robotic Inspections (ANYmal)
PETRONAS collaborated with robotics player ANYbotics to deploy autonomous robotic inspections onto its offshore facilities. This deployment would speed up the remote monitoring of offshore sites by having robots conduct industrial inspections consistently. The robot model used, ANYmal C, has high-performance sensors, visual analytics features, and thermography.
After several tests, the PETRONAS robotics team successfully operated a multi-week deployment for ANYmal C, which withstood harsh facility conditions. All data and videos captured are available through a single user interface, including real-time monitoring and autonomous mission setup.
2. Drones Inspection
Through a collaboration with a local start-up Aerodyne, PETRONAS deployed drones to inspect its Refinery and Petrochemical Integrated (RAPID) project. This particular use case extends to their FOF programme, improving inspections on their platforms.
Using a suite of features such as visual, thermal, and LIDAR sensors, the drones provide valuable inspections for hard-to-reach areas. This ability enables PETRONAS to improve the situation awareness of their platforms and have quick access to data to target resources for troubleshooting.
2. Advanced connectivity
PETRONAS would not be able to fully capture high-end tech value without enabling technologies such as the Internet of Things (IoT) and 5G. Hence, PETRONAS completed several 5G testbeds to explore the possibilities of a 5G network. In 2020, it successfully equipped the Resak platform with 5G capabilities to facilitate technology testing within the platform. Prior to that deployment, the group also conducted a 5G demonstration project at the Institut Teknologi Petroleum PETRONAS (INSTEP), Kuala Lumpur, to showcase the abilities of 5G.
Key Takeaways from PETRONAS Successes
Operational Excellence through digitalisation
PETRONAS has been aggressive in its pursuit of digitalisation. As a large group, PETRONAS is an example of how legacy businesses can evolve with proper execution and prioritisation for digitalisation. To ensure that digitalisation is effective, companies must have metrics and processes to record the returns on these investments.
For PETRONAS, the move towards digitalisation has been highly fruitful. The combined value realised from its digitalisation initiatives amount to nearly RM2.9 billion in savings recorded in 2020. The group reduced its Unit Production Cost (UPC) from the upstream business by up to 10%. As for the Overall Equipment Effectiveness Rate (OEE), PETRONAS has recorded an OEE rate of 90% across Downstream assets, 97% for domestic refineries, and 96.8% OEE rate for GandNE assets.
Generating value from managed services and technology experts
It is important to note these digitalisation initiatives are not purely executed internally by PETRONAS. When technology becomes complex, even companies as large as PETRONAS face difficulties managing the development, deployment, security, and maintenance of such technologies.
With rapid technological advances, companies have little time to build up the expertise to extract the full potential of these advancements adequately. Moreover, the current shortage of digital talents further amplifies this challenge.
One can take cues from PETRONAS' successes – the group forged productive collaborations and partnerships with technology players and managed services providers such as AVEVA, C3.ai, ANYbotics, etc. This strategy eases the ability for PETRONAS to integrate up-to-date technologies. With this approach, PETRONAS can focus entirely on their core businesses without getting distracted by managing the infrastructure of applications.
Other Notable Initiatives
Upskilling workforce with data analytics skills
Initiated PETRONAS Integrated Vision for Operation Excellence Technology (PIVOT) for upskilling staff with big data analytics skills
Ensuring safety with predictive analytics and web-based dashboard reporting
Analytical dashboard HIRA (HSSE Integrated Risk Assessment) to provide crucial oversight for the management to predict and act proactively to avoid accidents
Use of Dynamic Risk Analyser (DRA), a predictive risk-assessment tool that gathers multiple data points using sensors and alarm data to detect potential early failures in petrochemical sites
Leveraging big data analytics for asset management and maintenance
Applying Advanced Diagnostic and Prognostic Technology (AdaPT), an automated monitoring solution to predict early signs of mechanical damage
Adopting AI-driven advisory for optimising Liquefied Natural Gas (LNG) plants, which helps operators handle key parameters in the pre-cooldown phase of an LNG plant start-up
Read Now